Spring 2014 Programs at the Glass House
Photo by Sandra Hamburg
Glass House Presents
Glass House Presents
is an ongoing series of public programs - including conversations, performances, and gatherings - that sustains the site's historic role as a meeting place for artists, architects, and other creative minds. Before each event, visitors will enjoy the opportunity to explore the Glass House campus and view current exhibitions, including
Fujiko Nakaya: Veil
. The program concludes with light refreshments. Public programs take place from

3:00 to 5:30 p.m.

on Sundays, and

5:30 to 8 p.m.

on Thursdays.
May 18, 2014

- Maya Lin + Edwina von Gal
June 8, 2014

- David Adjaye + Thelma Golden
Glass House Presents is generously supported by an anonymous donor.
Night Sounds #4
Featuring lucky dragons
A musical performance + reception
at the Glass House
May 4, 2014, 3:00 - 5:30 p.

m.
lucky dragons is an ongoing collaboration between Los Angeles-based artists Sarah Rara and Luke Fischbeck. Active since 2000, lucky dragons is known for an open and participatory approach to making music, radically inclusive live shows, and playful, humanistic use of digital tools. Photo by Tom Hall.
Night Sounds #4 is generously supported by a grant from the Graham Foundation for Advanced Studies in the Fine Arts.
Into the Fog with Fujiko Nakaya
Panel discussion at the Japan Society, New York
Renowned artist Fujiko Nakaya, known for her pioneering use of fog as a sculptural medium, is joined by Henry Urbach, Director of the Glass House, to discuss the artist's current project, Fujiko Nakaya: Veil, on view at the Glass House through
November 30
.
Fujiko Nakaya: Veil is generously supported by the National Endowment for the Arts, the Robert Rauschenberg Foundation, The Japan Foundation, and Oldcastle BuildingEnvelope®. Additional support is provided by Mee Industries, Inc.
Self-Guided Tours
Self-guided tours of the Glass House offer visitors a unique opportunity to experience the Glass House campus at their own pace. In addition to the permanent art collection and temporary exhibitions, visitors enjoy access to seven structures designed by Philip Johnson, including: the Glass House, the Painting Gallery, the Sculpture Gallery, Da Monsta, and the Library, as well as the lower landscape's Pond Pavilion and Lincoln Kirstein Tower.
Photo by Carol Highsmith.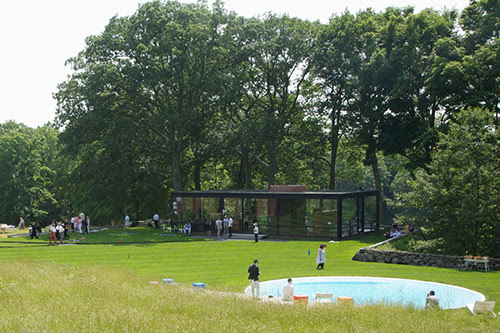 Glass House Summer Party,

June 14, 2014
The Glass House Summer Party will take place on

Saturday, June 14 from 12 noon to 4 p.m.

With support from Swarovski, the Summer Party will feature a festive picnic lunch, lawn games, music, and a silent auction along with opportunities to experience Fujiko Nakaya: Veil and the entire Glass House campus
.
THE GLASS HOUSE IS A SITE OF THE NATIONAL TRUST FOR HISTORIC PRESERVATION