LA LUZ DE JESUS GALLERY
Soap Plant / Wacko
4/25: Blighted Eye Book Signing with Glen Bray and Robert Williams
5/2: The 3rd Biennial Taxidermy Show
Blighted Eye:
Original Comic Art from the Glen Bray Collection
Book Release
& Signing Party with special guest Robert Williams
The Blighted Eye showcases Glen Bray's extensive collection of original comic art by a pantheon of cartooning masters, including Charles Addams, Carl Barks, Charles Burns, Al Capp, Dan Clowes, Jack Cole, R. Crumb, Jack Davis, Kim Deitch, Will Elder, Al Feldstein, Virgil Finlay, Drew Friedman, Chester Gould, Justin Green, Rick Griffin, Bill Griffith, Matt Groening, George Grosz, V.T. Hamlin, Jaime Hernandez, George Herriman, Al Hirshfeld, Graham Ingels, Bernie Krigstein, Harvey Kurtzman, Gary Panter, Virgil Partch, Savage Pencil, Peter Pontiac, Charles Rodrigues, Spain Rodriguez, Charles Schulz, Gilbert Shelton, Joost Swarte, Stanislav Szukalski, Irving Tripp, Chris Ware, S. Clay Wilson, Basil Wolverton, Wallace Wood, Jim Woodring, Art Young, and - it should go without saying - many more.
The Blighted Eye
is the most copious, the most diverse, and the most lavish compilation of original comic art ever published - all from the mind-boggling collection of Glenn Bray. Bray was an enthusiast of marginal or outsider American pop culture when he started to collect original comic art in 1965 - a time when very few people, including the artists themselves, truly valued the original art. Bray has, over the last nearly 50 years, amassed the most eclectic collection of original comic art in private hands. Public exhibitions of original comics art has proliferated over the last decade with such shows as Masters of American Comics at LA's Hammer Museum and R. Crumb's Underground at Seattle's Frye Museum.
Glenn Bray will be at the event in person to sign his book, as will Robert Williams, who supplied a foreword.
The 3rd Biennial Taxidermy Show
May 2 - June 1, 2014
Opening Reception: Friday, May 2nd, 8-11 PM
Live Taxidermy Demonstration: Saturday, May 3rd, 12-3 PM
La Luz De Jesus Gallery proudly presents our
3rd Biennial Taxidermy Show
.
This is not your granddady's taxidermy: road kill is a central part of the "recycled" philosophy of this unusual and enlightening exhibition, as are discarded livestock, destroyed nuisance animals, casualties of the pet trade and animals that have expired from natural causes. Other sculptures utilize taxidermy techniques in an unorthodox way to fashion fantastic beasts from everyday materials-even the recycled pelts of toy stuffed animals. Elements of technology and decoration combine to create ornaments that approach high art, not only in craft, but in concept.
Materials and even species are mixed, helping to broaden presumptive definitions.
Pieces in this exhibition span Steam Punk to Rococo -from playful to elegant.
ANIMALS ARE NOT KILLED IN THE WORK, but rather are used to create a conversation about death and taxidermy.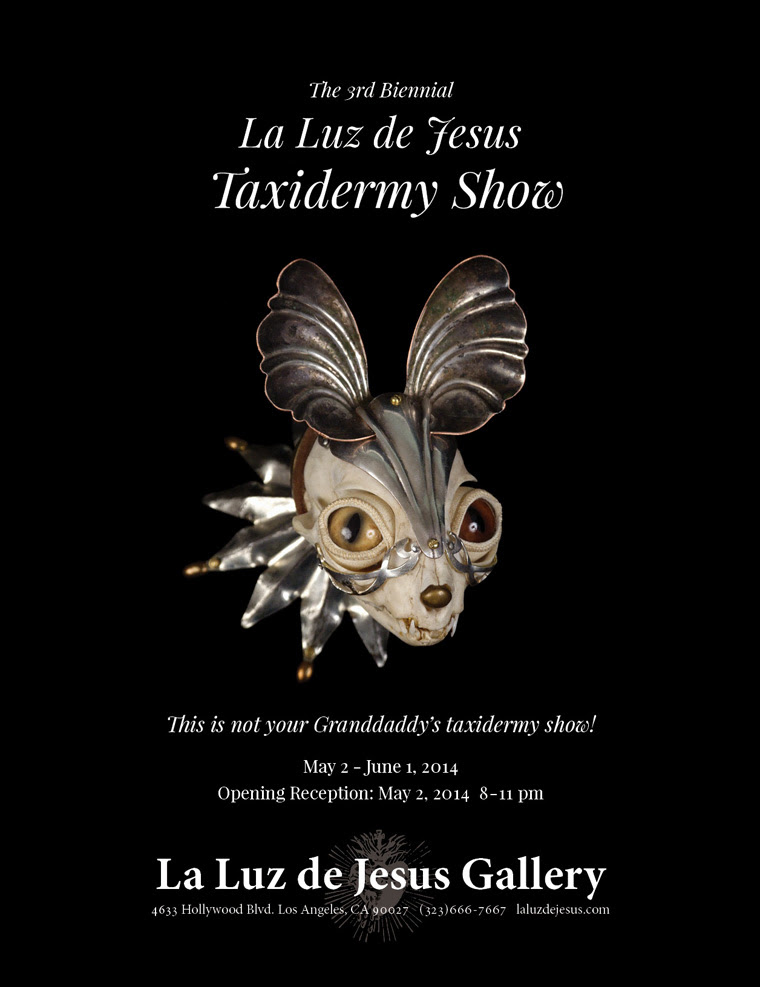 Partial artist list:
Divya Anantharaman
Emily Binard
Sarina Brewer
Kristin Bunyard
Cindy Cronk
Ai Honda
Katie Innamorato
Jeremy Johnson
Jessica Joslin
Lauren Kane
Jeffrey R. Kibbe
Dr. Paul Koudounaris
Liz Mcgrath
Brian Poor
Ave Rose
Emi Slade
Simone Smith
Vega
Brooke Weston
Mikal Winn
Final line-up to be announced next week
Click here
to see preview images (with more going up in the next few days).
Check out the previous Taxidermy shows:
Lee Joseph Publicity

for the Visual Arts
PO Box 1975, Burbank CA 91057
LEE JOSEPH PUBLICITY WILL SOON BECOME
REVERBERATIONS MEDIA.
STAY TUNED FOR A NEW, USER FRIENDLY WEBSITE!
#fineartmagazine