In 1993 Mr. Powell started Light Time in Space, Inc. to seriously look at the development of public art based on the idea that light can be made a palpable part of public projects.
His consulting work with GTE Sylvania led to projects using holographic imaging systems to create "flat lenses". Residencies and installations in Denmark at the Gammel Doks Center for Art and Craft led to permanent work for the City of Denver.
Staying involved with the extremes in lighting has turned into a habit, most recently in work with Luminus Devices in Sudbury, Mass developing a color changing high output LED fixture and Color Kinetics to illuminate Boston's first new lift bridge in seventy years. - For more info on John, go to

http://www.artspecifier.com

.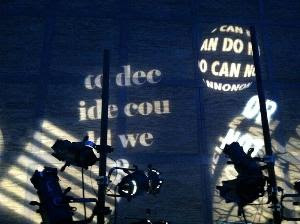 Weeks Footbridge, Cambridge/Allston, MA
To watch an amazing video of John Powell's work click below
If you are an artist interested in taking your career to the next level, reach art professionals, designers, art consultants and art lovers now is the time. you can click here for artist membership application.