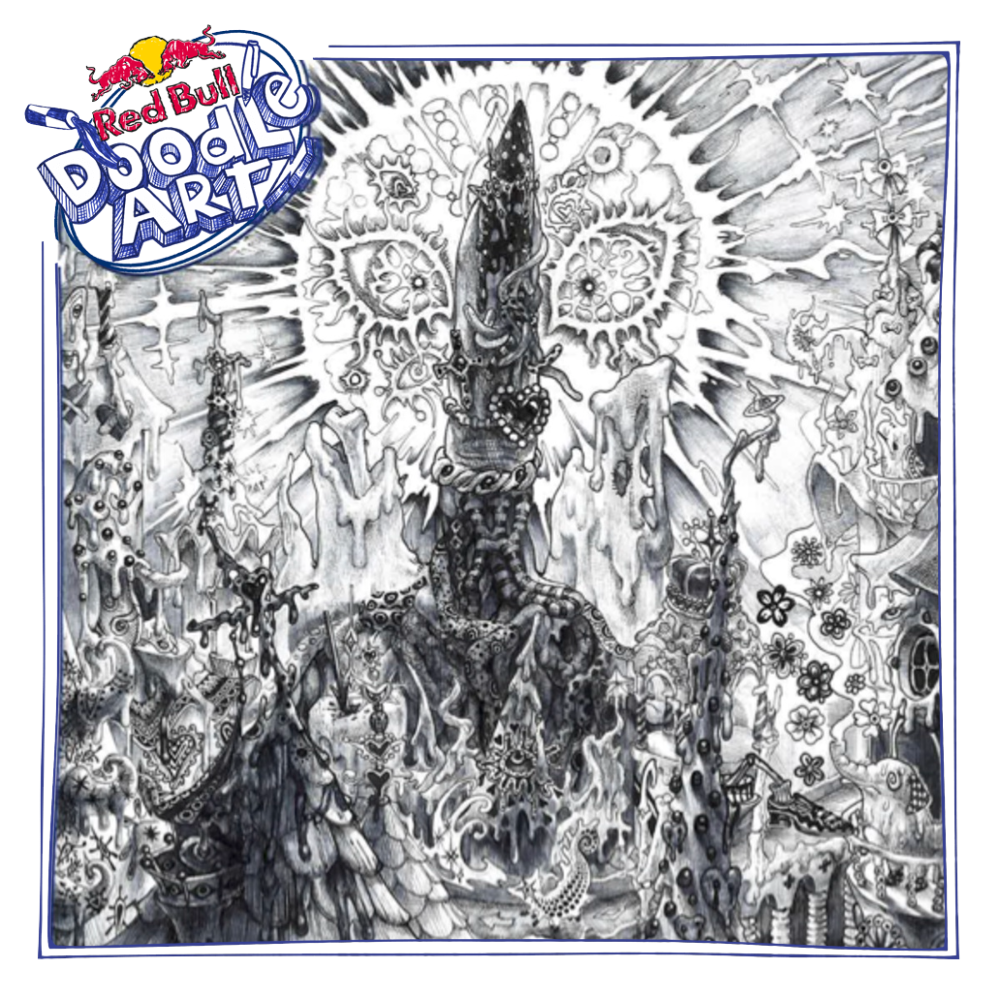 Yoh K image above
https://www.redbull.com/int-en/event-series/red-bull-doodle-art
The World Final of the Red Bull Doodle Art competition in Amsterdam was a catalyst for creativity, combining the fast-rising talents of 62 national finalists with insights and inspiration from high-profile experts including global artists Burnt Toast and Mr Doodle. The experience culminated with a showcase of the finalists' work on the blockchain and in a public gallery, where Chiara Croce of Italy was named the winner for 2023.

AMSTERDAM, the Netherlands (May 27, 2023) – A showcase of inspiring global talent that started with more than 120,000 entries worldwide has named its winner for 2023, as a panel of expert judges chose the artwork of Chiara Croce from Italy as their favourite at the Red Bull Doodle Art World Final in Amsterdam. For all of the 62 national finalists attending the event, a simple doodle with pen on paper sparked a journey of innovation that included mentorship and collaboration with world-famous creatives, culminating in a three-day experience in the Dutch capital where they exchanged ideas and learned technology skills to put their work in the spotlight.

Red Bull Doodle Art is a global competition that empowers a new generation of artists. To enter, you simply let your mind wander, put pen to paper, and create a doodle. The more than 120,000 entries this year marked a new high for the competition, setting a difficult but fascinating task for the judges choosing one national winner in each of 62 participating countries.
Each national winner prepared for the World Final by creating a new doodle that incorporated a signature icon drawn by celebrated artist Burnt Toast (Scott Martin of Canada). In doing so, not only were they able to choose one of five monochromatic designs by Burnt Toast to integrate into their artwork, but they also received feedback and mentorship from him directly. Chiara Croce chose a Burnt Toast icon of a character sitting on a bench weaving it into her own innovative doodle.

When the national winners arrived in Amsterdam for the World Final, they were immersed in a 'phygital' experience that combined the physical and digital realms of art. While sharing their varied doodling styles and inspirations, they took a tour of Amsterdam's iconic sites, heard keynote talks and engaged with the global judging panel, which in addition to Burnt Toast included UK artist Mr Doodle (Sam Cox), Dutch entrepreneur and digital creator Anna Nooshin, free running athlete Noa Diorgina of the Netherlands and 2017 Red Bull Doodle Art winner Ayaka Toyomasu of Japan.
Additionally, the finalists took part in a full-day workshop featuring collaborative doodling and information sessions on creating digital collectibles – that is, minting NFT artwork – led by experts from Red Bull Doodle Art partner Ledger. By the afternoon of day two, 61 of the new pieces that the national winners had created with Burnt Toast's collaboration went live for an open-edition mint on the Nifty Gateway marketplace as the Red Bull Doodle Art NFT collection mentored by Burnt Toast.

The climax to the event came at Amsterdam venue Capital C, where a special gallery showcase open to the public displayed both the original pen-and-paper doodles and the new NFT creations of the national winners. It was there – based on the criteria of creativity, artistic skill and the way the doodles conveyed a love for life – that the judges named anelated Chiara Croce as the 2023 winner.
"Now that I have won this competition, I feel like I'm on top of the world." says Chiara right after her win in Amsterdam. "My upcoming dreams and goals are represented in my doodle, that won the Italian final, and from here I want to become a famous comic artist."

Now, Chiara Croce's winning piece, featuring Burnt Toast's signature pastel color, will live on permanently on the blockchain as the winner of Red Bull Doodle Art 2023.

For more on Red Bull Doodle Art, including the winning doodle, visit the global homepage here.