Rachel Bess - Light, Color, Darkness
Jessica Joslin - Animal Alchemy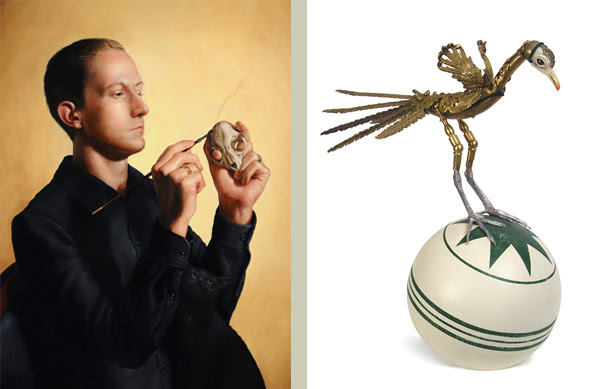 Left: Rachel Bess, Friends, 2013, oil on panel, 8" x 6"
Right: Jessica Joslin, Theodora, 2013, antique hardware and lamp parts, brass, velvet, painted steel, cast pewter, glove leather, glass eyes, 17" x 8" x 15"
Exhibition Dates:
February 6th - March 1st, 2014
Opening Reception with Rachel Bess and Jessica Joslin
Thursday, February 6th, 2014 from 7 - 9pm
Lisa Sette Gallery
presents new works by
Rachel Bess
, whose striking portraiture presents contemporary characters evoking eternal themes, and
Jessica Joslin,
creator of a menagerie of intricate creatures assembled from the bits and pieces of our collective imagination.
Portraitist Rachel Bess recruits friends and acquaintances to serve as models for her jewel-like oil-on-panel images. Contemporary in presentation and youthful in appearance, replete with modern hairstyles and dewy skin, Bess's subjects epitomize a specific moment in the dreamy act of self-creation. In contrast to these modern aspects are the paintings themes: deep-historical concepts of seasonal change, myth, and the physical phenomena that delineate our earthly lives. In the melding of these two narratives—the contemporary and the timeless—Bess creates intriguing, fairy-tale-like images, as lyrical and strange as they are formally precise.
In her exhibit at Lisa Sette Gallery, remarks Bess, "most of the paintings will revolve around color in dark places, visually and/or metaphorically; this is kind of like illustrating a book before it's been written; some day I'll write it all down and the images of these paintings will serve as guideposts."

Jessica Joslin's brass and bone creatures are feats of engineering and imagination, endearing and lifelike animals assembled from lifeless parts. Joslin expertly combines bone, leather, worked silver and brass, and other antiquated materials to animate a menagerie of enchanting skeletal creatures, embellished with the decorative flotsam of past eras. Simultaneously irresistible and frightening, these animal-spirits of castaway parts and obsolete inventions seem to perform for us, in contrived poses and circus garb.
In her new works to be exhibited at Lisa Sette Gallery, Joslin focuses on "exploring the interactions between creatures," as in the delightful Troy, a re-imagining of the Trojan Horse. "Instead of danger lurking within, however, he is incubating a nest full of parakeets, who are living symbiotically within his body." Similarly, she comments, "Filou is an example of a predator/prey relationship, as the creature stealthily stalks his next meal of dainty brass dragonflies."
In Joslin's mechanical bestiary, each creature performs a symbolic role, just as each component has its proper place in the fantastic anatomies of her dreadful darlings, from pewter joint to tasseled harness to imploring glass eye.
Lisa Sette Gallery


4142 North Marshall Way
Scottsdale, Arizona 85251-3838
480-990-7342

#Fineartmagazine