in
fo
D A V I D G R A E M E B A K E R
When you view a painting by David Graeme Baker, you're immediately transported into a world touched by nostalgia and a humble grandeur.

In Clear a young woman steals a moment of introspection in the chilly outdoors. This quiet scene, set near the artist's home in Maine, evokes an enigmatic kind of serenity. Objects lined up along the truck's edge- a vase of hand picked flowers, a collection of feathers, a tin can phone, an empty bird's nest- hint at the characters who may be in the young woman's life. "I deliberately conflate reality and fiction to suggest ambiguous narratives within a subtly symbolic image," writes Baker in the Spring, 2013 issue of Artists on Art. "The outcome, rather than clean, iconic meta-image or narratives, are paintings with more purposefully modest, tangled, local threads."

What makes Baker so good is his ability to capture and distill the eccentricities of youthful imaginings.



Few paintings by the artist become available each year. I invite you to come view this special piece hanging in the Winter Group Show before its gone. Or contact the gallery for more information on Clear.
David Graeme Baker,
Clear
, Oil on Linen Mounted on Panel, 15 1/2" x 28"
Eric Wert's still lifes have a luscious, seductive quality that can make a viewer blush. There's no surface in these paintings, like Capsicum below, that's left unadorned-from the paisley design of the backdrop to the water droplets on the marble tabletop. Eric uses "small pools and rivulets [in his paintings] to energize certain areas and draw the viewer's eye through his paintings." (from Artist's Magazine, November 2012)
Eric Wert,
Capsicum
, Oil on Panel, 16" x 16"
FROM THE LAST EMAIL:

S T E V E M I L L S
It's easy to mistake one of Steve Mills' paintings for a photograph. He's that good. Mills estimates that anywhere between 300 and 500 hours of work go into each painting, and the results are stunning. His new work, The Family, is hanging in Gallery Henoch for our Holiday Group Show. The reflection of the marbles in the marble surface on which they're assembled gives this painting a luminous depth. But the most striking part for us is how Mills captures the sun refracted through the marbles, creating a brilliant spot of light in the layered shadows.

If you've never seen one of his paintings in person, now's your chance.

Email or call the gallery for more information on The Family and other work by Steve Mills.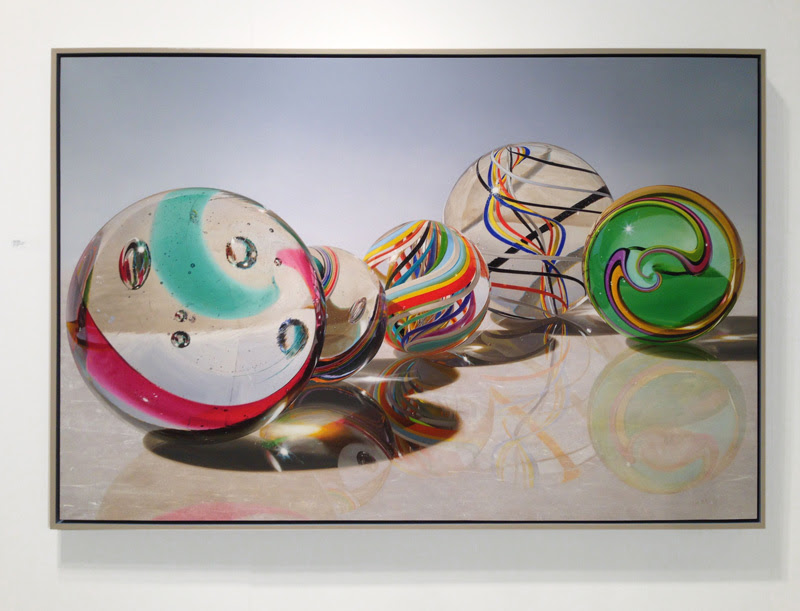 Steve Mills,
The Family
, Oil on Aluminum, 40" x 60"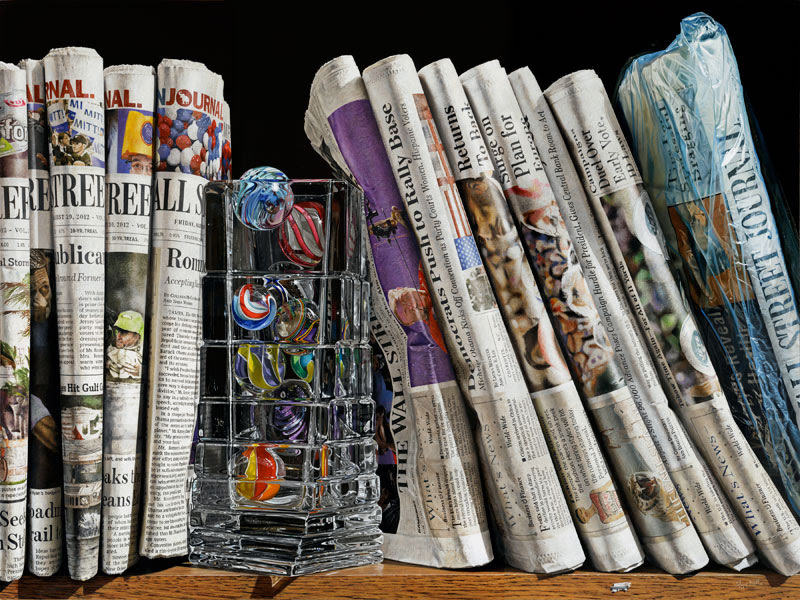 Steve Mills, Leaning to the Middle, Oil on Board, 36" x 48"
G A L L E R Y H E N O C H
5 5 5 W E S T 2 5th S T R E E T
N E W Y O R K, N Y 1 0 0 0 1