OCTOBER 10–23
See the exhibition heralded as "beautiful" (The New York Times) and "ingenious, and also moving" (The New Yorker). Wade Guyton OS is a striking installation of Guyton's innovative work that explores our changing relationship to images and art through the use of technology.
Yayoi Kusama's Fireflies on the Water continues through October 28. Special timed tickets are required for Fireflies, so see our website for information before your visit.
We hope to see you at the Whitney!
---
Exhibitions
‬Family Programs
Shop
Other Events
Become a Member
---
Exhibitions
BACK TO TOP
Signs & Symbols
"Works whose essentials anyone anywhere could relate to"—The New York Times
Through October 28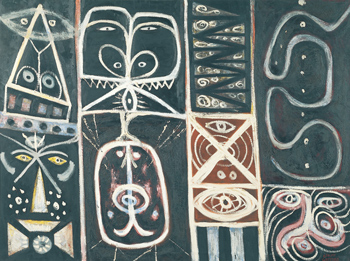 Drawn from the Whitney's collection, Signs & Symbols sheds new light on the developments of abstraction in American art during the 1940s and 1950s. Looking beyond Abstract Expressionism, toward the figurative and calligraphic "signs and symbols" present in much of the highly controlled work of this period, this exhibition features works by seminal artists including Mark Rothko, Jackson Pollock, and Adolph Gottlieb, among others.
Oskar Fischinger:
Space Light Art—A Film Environment
"At once relaxing and stimulating, and possibly hypnotic"—Artinfo
Through October 28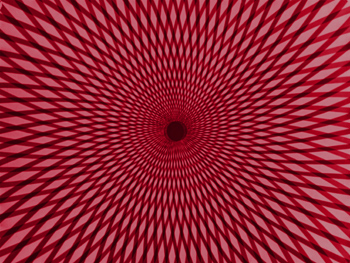 This exhibition presents one of the first multimedia projections ever made: Oskar Fischinger's Raumlichtkunst (Space Light Art), a re-creation of his multiple-screen film events, first shown in Germany in 1926, and recently restored by the Center for Visual Music in Los Angeles. Radical in format, its display of abstract shapes and colors produces, according to Fischinger, "an intoxication by light from a thousand sources."
Fireflies on the Water
Through October 28
Yayoi Kusama's depictions of seemingly endless space have been a central focus of her artistic career. Kusama's Fireflies on the Water (2002)—with its carefully constructed environment of lights, mirrors, and water—is one of the outstanding examples of this kind of installation, which creates a space in which individual viewers are invited to transcend their sense of self.
Special timed tickets are required for entry into Fireflies on the Water. Tickets are free with Museum admission and available day-of-visit on a first-come, first-served basis. We recommend you arrive early.
Wade Guyton OS
"The Whitney Museum has a hit on its hands: a beautiful show organized by a young curator that makes a cogent case for the work of a young artist."
—The New York Times
Through January 13, 2013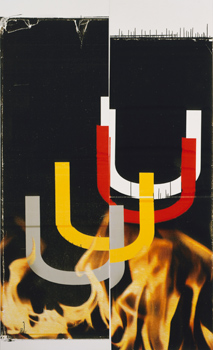 Over the past decade, New York–based artist Wade Guyton has pioneered a groundbreaking body of work that explores our changing relationships to images and artworks through the use of common digital technologies, such as the desktop computer, scanner, and inkjet printer. Guyton's purposeful misuse of these tools to make paintings and drawings results in beautiful accidents that relate to the ways in which we haltingly navigate the visual and technological barrage of our time.
. . . as apple pie
On continuous view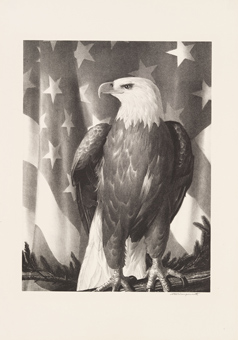 Images, like words, can trigger a cultural or emotional response to a shared national ethos. Artists have employed images—sometimes straightforwardly, often obliquely—in order to comment on a country, its people, its political or social goals, and its self-image. This exhibition explores this phenomenon through a rotating installation, drawn from the Whitney's collection, of works on paper by a diverse group of artists including Robert Bechtle, Enrique Chagoya, Howard Cook, William N. Copley, Edward Hopper, Willard Midgette, Joseph Pennell, Benton Spruance, and Stow Wengenroth.
---
Family Programs
BACK TO TOP
Whitney Wees: Shapes, Lines, and Symbols
For families with kids age 4–5
October 13, 20, and 27
10:30–11:30 am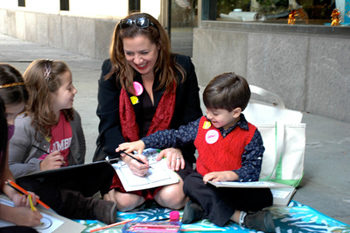 From circles to squiggles, artists often develop their own special vocabulary to create their work! Families will explore sculptures, paintings, and more in Signs & Symbols and other exhibitions.
$10 per family. Admission to program includes Museum admission. Registration is recommended; drop-ins are welcome if space is available.
Family Fun Art Workshop: Playing with Printmaking
For families with kids age 6–10
October 13, 20, and 27
10:30 am–12:30 pm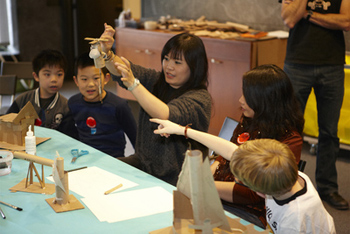 Discover how Wade Guyton uses technology to print—and misprint—his breathtaking works. Families will try their own hands at printmaking.
$10 per family. Admission to program includes Museum admission. Registration is recommended; drop-ins are welcome if space is available.
---
Shop
BACK TO TOP
Wade Guyton OS
$55 / $40 for members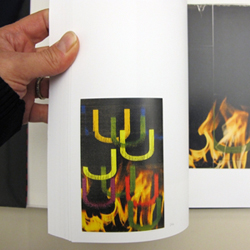 This catalogue illuminates Wade Guyton's unconventional working methods and the development of his techniques, showcasing the visual flair and conceptual provocation inherent in his art.
Wade Guyton: Drawings for a Small Picture
$65 / $58.50 for members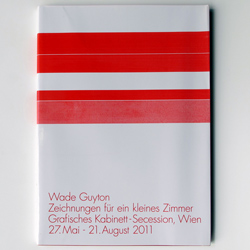 In conjunction with his exhibition at the Secession in Vienna, Guyton produced this artist's book, which enacts his creative methods across more than sixty color pages.
---
Other Events
BACK TO TOP
Film Forum Presents: Bel Borba Aqui
Through October 16
Film Forum
West Houston Street (West of 6th Avenue)
For the past thirty-five years, Bel Borba has been transforming his hometown of Salvador, Brazil with an amazing array of works of public art. Using paint, sand, tiles, clay, metal, wood, and just about anything else he comes across, Bel Borba makes art that is a natural extension of his exuberant personality. Set to the rhythms of Brazil, Bel Borba Aqui introduces a one-man life-force who proves that his country is a lot more than favelas, soccer, and drugs.
For more information and to buy tickets, visit filmforum.org.
---
Just for Members:
Preview Day: Richard Artschwager!
October 24
12–6 pm
This major retrospective surveys nearly five decades of the work of Richard Artschwager and explores his relationship to major movements in American art.
Open to all members, plus one guest.
JOIN NOW
For further information, please email memberinfo@whitney.org or call (212) 570-3641. Thank you for supporting the Whitney!
---
IMAGE CREDITS
Wade Guyton (b. 1973), Untitled, 2006 (detail). Epson UltraChrome inkjet on linen, 89 × 54 in. (226.1 × 137.2 cm). Private collection. © Wade Guyton. Photograph by Lamay Photo
Adolph Gottlieb (1903–1974), Vigil, 1948. Oil on canvas, 36 × 48 in. (91.4 × 121.9 cm). Whitney Museum of American Art, New York; purchase 49.2. Art © Adolph and Esther Gottlieb Foundation / Licensed by VAGA, New York, NY
Oskar Fischinger (1900–1967), still of Raumlichtkunst, 1926/2012. Three screen projection: three 35mm films transferred to high-definition video, black-and-white and color, sound; 10 minutes, looped. © Center for Visual Music
Yayoi Kusama (b. 1929), Fireflies on the Water, 2002. Mirror, plexiglass, lights and water, 111 × 144 1/2 × 144 1/2 in. (281.9 × 367 × 367 cm) overall. Whitney Museum of American Art, New York; purchase, with funds from the Postwar Committee and the Contemporary Painting and Sculpture Committee and partial gift of Betsy Wittenborn Miller 2003.322. © Yayoi Kusama. Photograph courtesy Robert Miller Gallery, New York
Wade Guyton (b. 1973), Untitled, 2006. Epson UltraChrome inkjet on linen, 89 × 54 in. (226.1 × 137.2 cm). Private collection. © Wade Guyton. Photograph by Lamay Photo
Stow Wengenroth (1907–1978), Bird of Freedom, 1942. Lithograph, 21 9/16 × 15 1/16 in. (54.8 × 38.3 cm). Whitney Museum of American Art, purchase 42.13. Digital image © Whitney Museum of American Art
In the sculpture court, families design their own comic strip, 2011. Photograph by Sean Carroll
Family Fun participants create wacky installations, 2012. Photograph by Sean Carroll
Still from Bel Borba Aqui, directed by Burt Sun and André Costantini
---