---
---
RICHARD ARTSCHWAGER BLPS
High Line Art and the Whitney Present Series of
Artist's Iconic Blps On and Around the High Line In Conjunction with the Retrospective Richard Artschwager! at the Whitney
October 25, 2012–February 3, 2013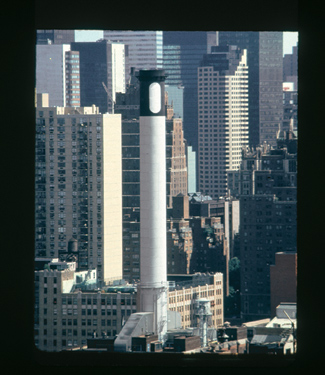 NEW YORK, October 5, 2012—In partnership with High Line Art, presented by Friends of the High Line, the Whitney Museum of American Art is mounting a series of blps by Richard Artschwager, in conjunction with the artist's Whitney retrospective Richard Artschwager!. A group of blps will be installed in various locations on and around the High Line and will be on view in tandem with the Whitney retrospective from Thursday, October 25, 2012, to Sunday, February 3, 2013.
Artschwager introduced his blps—a word coined by the artist and pronounced "blips"—in the late 1960s. The blps were first installed at the University of California–Davis, then in Europe, and then throughout New York City, including on subways and building facades, and in galleries. These public interventions consist of black or white lozenge-shaped marks that inspire focused looking, and draw attention to architecture, structures, and surfaces that usually go unnoticed. Artschwager's blps have transformed art spaces and city streets for decades, creating an opportunity for the "useless looking" the artist has aspired to throughout his career.
As part of the upcoming retrospective at the Whitney, exhibition curator Jennifer Gross, in collaboration with High Line Art, has organized a project working with the artist that will revisit this aspect of his practice. Artschwager will install blps on and around the High Line, near the future downtown home of the Whitney Museum at the southern terminus of the High Line, at Gansevoort and Washington Streets, and the Whitney's building uptown on Madison Avenue at East 75th Street. There, part of the exhibition reviews the history of the blp, including Artschwager's 100 Locations, an installation of 100 blps that were placed around the Whitney Museum at the time of Artschwager's appearance in the 1968 Whitney Annual Exhibition, as well as other blp projects.
Jennifer Gross, the Seymour H. Knox, Jr. Curator of Modern and Contemporary Art at Yale University Art Gallery says, "The partnership between High Line Art and the Whitney has enabled Richard Artschwager to blp the neighborhood surrounding the High Line and has provided an essential component of his retrospective. Artschwager's blps are a natural extension of the High Line's embrace of its community and will only make even more visible the aesthetic richness of New York."
"I look forward to seeing the High Line dotted by blps," says Cecilia Alemani, the Donald R. Mullen, Jr. Curator & Director of High Line Art. "The High Line is a natural theater for art, with its lush landscape, innovative design, and breathtaking views of New York City. Like in a connect-the-dots game, Artschwager's blps will link the High Line's unique characteristics, creating a three-dimensional painting in the landscape surrounding the park."
This project is made possible by the Whitney Museum of American Art and High Line Art, presented by Friends of the High Line. Richard Artschwager! is organized by the Whitney Museum of American Art in association with the Yale University Art Gallery. Support for the blp project is provided by 32BNY.
---
About the Artist
New York-based artist Richard Artschwager (b. 1923, Washington, D.C.) had his first solo show in 1965 at Leo Castelli and appeared in the Primary Structures exhibition at the Jewish Museum in 1966. Select solo exhibitions include Contemporary Art Museum, St. Louis (2010); Sprüth Magers, Berlin (2009); Museum of Contemporary Art North Miami, Miami (2003); Deutsche Guggenheim, Berlin (2003); Arts Club of Chicago, Chicago (2002); MAK, Vienna (2002); Serpentine Gallery, London (2001); Fondation Cartier pour l'Art Contemporain, Paris (1994); Museum of Fine Arts, Boston (1992); Institute of Contemporary Art, Philadelphia (1979); Contemporary Arts Museum, Houston (1979); and Museum of Contemporary Art, Chicago (1973). He began appearing in Whitney Annuals in 1966 and was shown in the 1968, 1970, and 1972 Annuals as well as the 1983 and 1987 Biennials. In 1988, the Whitney organized a mid-career retrospective of his work, which toured to numerous national and international venues including Whitney Museum of American Art, New York; San Francisco Museum of Modern Art, San Francisco; Museum of Contemporary Art, Los Angeles; Palacio de Velasquez, Madrid; Centre Pompidou, Paris; and Städtische Kunsthalle, Dusseldorf.
---
Current and Upcoming Exhibitions at the Whitney
Oskar Fischinger: Space Light Art—A Film Environment
Through October 28, 2012
Signs & Symbols
Through October 28, 2012
Fireflies on the Water
Through October 28, 2012
Wade Guyton
October 4, 2012–January 13, 2013
Richard Artschwager!

October 25, 2012–February 3, 2013
Trisha Baga: Plymouth Rock 2
November 7, 2012–January 27, 2013
Sinister Pop
Opens November 15, 2012
Dark and Deadpan: Pop in TV and the Movies
Opens November 15, 2012
Blues for Smoke
February 7–April 28, 2013
Jay DeFeo: A Retrospective
February 28–June 2, 2013
. . . as apple pie
On continuous view
The Whitney Museum is located at 945 Madison Avenue at 75th Street, New York City. Museum hours are: Wednesday, Thursday, Saturday, and Sunday from 11 am to 6 pm, Friday from 1 pm to 9 pm, closed Monday and Tuesday. General admission: $18. Full-time students and visitors ages 19–25 and 65 & over: $14. Visitors 18 & under and Whitney members: FREE. Admission to the Kaufman Astoria Studios Film & Video Gallery only: $6. Admission is pay-what-you-wish on Fridays, 6–9 pm. For general information, please call (212) 570-3600 or visit whitney.org.
---
IMAGE CREDIT

Blp at the Turtle Bay Steam Plant, New York, c. 1968. Photograph by Richard Artschwage