OCTOBER 24–NOVEMBER 6
Richard Artschwager!, a retrospective highlighting the artist's unique exploration of sculpture, painting, and drawing, opens tomorrow. Associated with Pop, Minimalism, and Conceptual art, Artschwager has never fit easily into any of these categories, and this exhibition delves into his influential legacy.
Don't miss your last chance to see Yayoi Kusama's Fireflies on the Water, Oskar Fischinger's Space Light Art, and Signs & Symbols, all closing this Sunday. Special timed tickets are required for Fireflies, so see our websitefor information before your visit.
And join us on November 5 when artist Sarah Sze discusses her work with Whitney director Adam D. Weinberg during the eighth annual Annenberg Lecture.
We hope to see you at the Whitney!
---
Exhibitions
Lectures, Talks, and Performances
‬Family and Teen Programs
Richard Artschwager Blps Project
Shop
Become a Member

---
Exhibitions
BACK TO TOP
Signs & Symbols
"Works whose essentials anyone anywhere could relate to"—The New York Times
Through October 28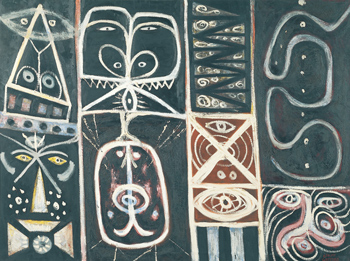 Drawn from the Whitney's collection, Signs & Symbols sheds new light on the developments of abstraction in American art during the 1940s and 1950s. Looking beyond Abstract Expressionism, toward the figurative and calligraphic "signs and symbols" present in much of the highly controlled work of this period, this exhibition features works by seminal artists including Mark Rothko, Jackson Pollock, and Adolph Gottlieb, among others.
Oskar Fischinger:
Space Light Art—A Film Environment
"At once relaxing and stimulating, and possibly hypnotic"—Artinfo
Through October 28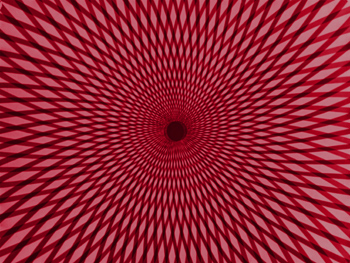 This exhibition presents one of the first multimedia projections ever made: Oskar Fischinger's Raumlichtkunst (Space Light Art), a re-creation of his multiple-screen film events, first shown in Germany in 1926, and recently restored by the Center for Visual Music in Los Angeles. Radical in format, its display of abstract shapes and colors produces, according to Fischinger, "an intoxication by light from a thousand sources."
Fireflies on the Water
Through October 28
Yayoi Kusama's depictions of seemingly endless space have been a central focus of her artistic career. Kusama's Fireflies on the Water (2002)—with its carefully constructed environment of lights, mirrors, and water—is one of the outstanding examples of this kind of installation, which creates a space in which individual viewers are invited to transcend their sense of self.
Special timed tickets are required for entry into Fireflies on the Water. Tickets are free with Museum admission and available day-of-visit on a first-come, first-served basis. We recommend you arrive early.
Wade Guyton OS
"The Whitney Museum has a hit on its hands: a beautiful show organized by a young curator that makes a cogent case for the work of a young artist."—The New York Times
Through January 13, 2013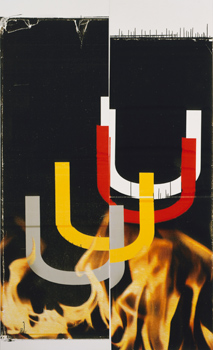 Over the past decade, New York–based artist Wade Guyton has pioneered a groundbreaking body of work that explores our changing relationships to images and artworks through the use of common digital technologies, such as the desktop computer, scanner, and inkjet printer. Guyton's purposeful misuse of these tools to make paintings and drawings results in beautiful accidents that relate to the ways in which we haltingly navigate the visual and technological barrage of our time.
Richard Artschwager!
"The last great minimalist"—New York Magazine
October 25, 2012–February 3, 2013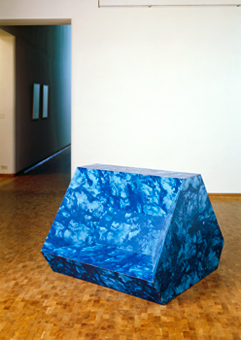 Richard Artschwager had his first solo exhibition at the age of forty-two, in 1965 at Leo Castelli Gallery. Since then his art has been shown throughout the world, and his enigmatic and diverse work has been influential, yet not thoroughly understood. This exhibition is a comprehensive review of Artschwager's remarkable creative exploration of the mediums of sculpture, painting, and drawing, and is the first retrospective exhibition of Artschwager's work since the one organized by the Whitney in 1988.
. . . as apple pie
On continuous view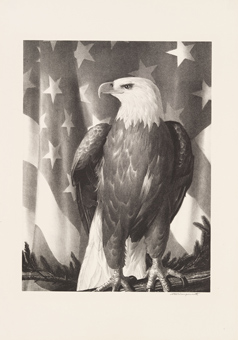 Images, like words, can trigger a cultural or emotional response to a shared national ethos. Artists have employed images—sometimes straightforwardly, often obliquely—in order to comment on a country, its people, its political or social goals, and its self-image. This exhibition explores this phenomenon through a rotating installation, drawn from the Whitney's collection, of works on paper by a diverse group of artists including Robert Bechtle, Enrique Chagoya, Howard Cook, William N. Copley, Edward Hopper, Willard Midgette, Joseph Pennell, Benton Spruance, and Stow Wengenroth.
---
Lectures, Talks, and Performances
BACK TO TOP
Gallery Talk: Adam McEwen and Jennifer Gross
on Richard Artschwager!
November 1
7 pm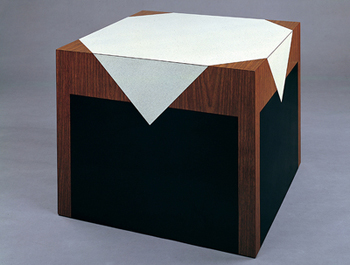 Join artist Adam McEwen and curator Jennifer Gross for a special look atRichard Artschwager's work and legacy.
$8 general admission; $6 senior citizens and students; free for members.
Eleanor Antin: Conversations with Stalin
November 2
6:30 pm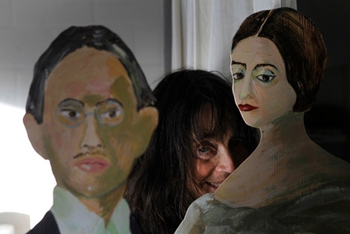 As one of the first artists to re-introduce autobiography, narrative, and performance back into the art world in the 1960s and '70s, Eleanor Antin created an imaginary theater of personae and mythological characters, dramatizing contemporary personal and political narratives through a kind of historical time travel. In this performance, she reads four chapters from her coming-of-age memoir Conversations with Stalin, a no-holds-barred black comedy of growing up in New York City.
Free with Museum admission, which is pay-what-you-wish on Fridays, 6–9 pm; no special tickets or reservations are required.
Walter Annenberg Annual Lecture: Sarah Sze
November 5
7 pm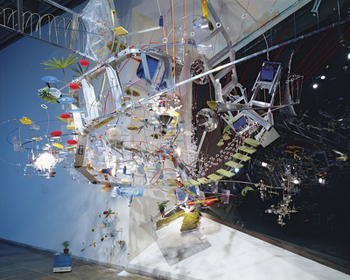 Known for large-scale sculptural installations, wall-mounted reliefs, and works on paper, Sarah Sze transforms our perception of quotidian items, such as notebook paper, plastic spoons, string, and straws, by assembling works of extraordinary beauty, movement, balance, and surprise. In this eighth Walter Annenberg Lecture, Sze will speak about her work in conversation with Adam D. Weinberg, the Whitney's Alice Pratt Brown Director.
Advance reservations are currently at capacity, but we encourage you to come to the Museum on the night of the event for seating availability.
---
Family and Teen Programs
BACK TO TOP
The Haunted Studio:
Teen Halloween Event with Artist Tom Thayer
For teens in grades 9–12
October 26
4–7:30 pm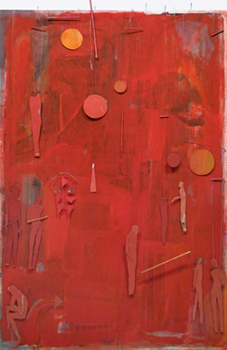 The Whitney's Youth Insights Leaders invite teens to join them in the Whitney Studio for an evening of frightening sights and sounds at the Museum. Enjoy an interactive installation created by YI Leaders and artists Tom Thayer and John Jines. Create your own transfer prints, tour the galleries, dress like your favorite dead artist, and enjoy supernatural refreshments.
This event is free to attend, and no RSVP is required. If you have questions, please email youthinsights@whitney.org.
Whitney Wees: Shapes, Lines, and Symbols
For families with kids age 4–5
October 27
10:30–11:30 am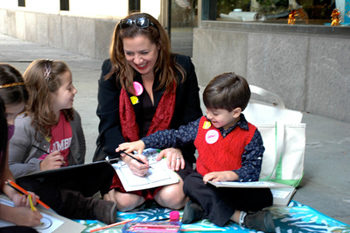 From circles to squiggles, artists often develop their own special vocabulary to create their work. Families will explore sculptures, paintings, and more in Signs & Symbols and other exhibitions.
$10 per family. Admission to program includes Museum admission. Registration is recommended; drop-ins are welcome if space is available.
Family Fun Art Workshop: Playing with Printmaking
For families with kids age 6–10
October 27
10:30 am–12:30 pm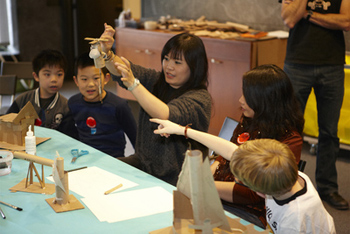 Discover how Wade Guyton uses technology to print—and misprint—his breathtaking works. Families will try their own hands at printmaking.
$10 per family. Admission to program includes Museum admission. Registration is recommended; drop-ins are welcome if space is available.
Stroller Tour: Wade Guyton OS
For parents with babies younger than 18 months
November 2
12–1 pm
Whitney Teaching Fellows, PhD candidates in art history, lead engaging tours of current exhibitions for new moms and dads when the Museum is closed to the public. Crying babies are welcome!
$25 per family. Admission to program includes Museum admission. Registration is required.
---
Richard Artschwager Blps Project
BACK TO TOP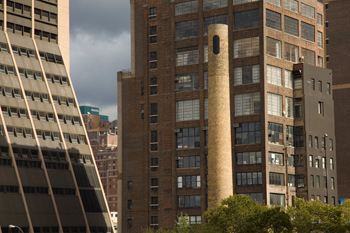 In conjunction with Richard Artschwager's retrospective, a series of the artist's blps will be installed along and on the horizon of the High Line near the future home of the Whitney, as well as on the Museum's current building uptown.
Artschwager first created his blps—a word coined by the artist and pronounced, "blips"—in the late 1960s. This installation will consist of black lozenge-shaped marks meant to inspire focused looking and draw our attention to the places and things around us that often go unnoticed.
Visit whitney.org soon for more information on this project, including installation locations and dates.
---
Shop
BACK TO TOP
Richard Artschwager!
$65 / $58.50 for members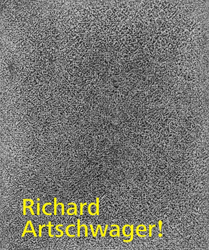 This catalogue, which includes four essays, new photography, and previously unpublished archival images, offers a compelling new look at one of the most singular artists of the twentieth century.
Richard Artschwager's Libespaar (2005)
Limited Edition Print
$2,400 / $2,160 for members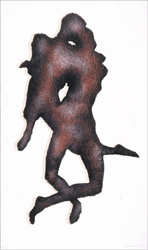 Liebespaar (Lovers), 2005, is drawn from a series of works in which Artschwager focuses on rubberized horsehair, a material he has used throughout his career, to explore the tactility of the visual experience. Edition of 108. Hand signed and numbered.
Enjoy free shipping on all Museum Store standard delivery orders within the continental U.S. through December 15 (express shipping incurs additional charges).
---
Just for Members:
Special Weekend Viewing Hours of
Yayoi Kusama's Fireflies on the Water
October 27 and 28
10–11 am
With its carefully constructed environment of lights, mirrors, and water, Fireflies on the Water (2002), the remarkable immersive installation by Yayoi Kusama, creates the illusion of seemingly endless space.
Only one person is allowed in the installation at a time, and the viewing time is limited to one minute. Only members have access to Fireflies on the Waterduring these special morning viewing times. Tickets are extremely limited and are available on a first-come, first-served basis. No advance registration required. Need help planning your visit to Fireflies? Check out this informative FAQ before you arrive.
JOIN NOW
For further information, please email memberinfo@whitney.org or call (212) 570-3641. Thank you for supporting the Whitney!
---
---