Jennifer Trask - New Work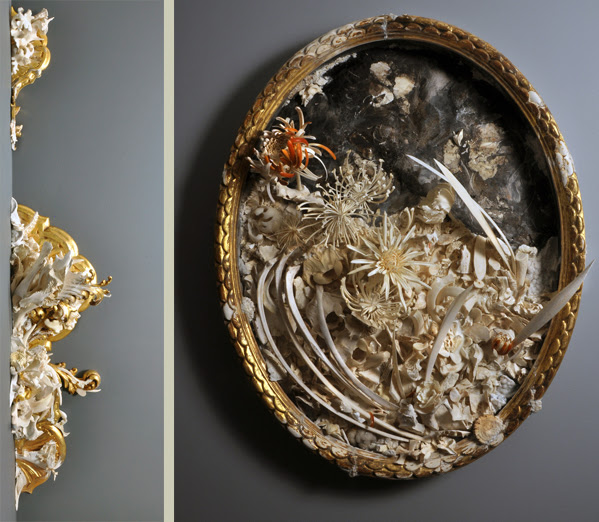 Left: Jennifer Trask, Effloresce, 2013, bone, antler, teeth, gesso, quartz, found 18th and 19th century wall sconces, 57" tall
Right: Jennifer Trask, Encroachment, 2013, wood, gold leaf, gesso, found objects (18th century frame fragments), bone, antler, calcium carbonate, druzy quartz, teeth, resin, mica, 32" x 24" x 7"
Exhibition Dates:
March 6th - March 29th, 2014
Opening Reception with Jennifer Trask
Thursday, March 6th, 2014 from 7- 9pm
Lisa Sette Gallery
is pleased to announce its debut exhibition with artist
Jennifer Trask
. Unfurling from the architecture, emerging out of corners and walls, the artist's wild conflagrations of ghost-pale flowers, frames, branches and vines look as though they could have sprouted from an enchanted seed. From their mysterious materials to their exponentially multiplying ornament - bone-white bouquets, crowding around a frame or climbing along the wall - Trask's objects emit an unmistakable air of magic.
Trask began her career as a maker of small objects: her carved-bone works could be worn as jewelry. In the last decade her work has expanded in size and scope; a single sculpture can take Trask eight months to construct, and the artist's processes are as varied and laden with meaning as the materials she employs: the manipulation of bone, woodcarving and gilding, still-life and furniture making.
Trask practices a singular kind of alchemy: She could tell you the number of days peroxide-cured deer antler must dry in the sun at her Hudson Valley home, or the solution of vinegar in which one might soak a python's rib in order to make it pliable enough to form the pinprick of a chrysanthemum petal.
But these crafts are, for Trask, secondary to her completed work's true achievement: a sense of wonder at the vast proliferation of the natural world. According to Trask, "That's what I'm trying to claim when I go into the studio. I want to make something that I believe could be real, something that could have happened on its own."

---
Lisa Sette Gallery maintains a very active exhibition schedule, mounting approximately 10 exhibitions a year ranging in theme and genre. For nearly 30 years, the gallery has been committed to showcasing a range of contemporary photography, sculpture, painting, installation and performance art.
#fineartmagazine