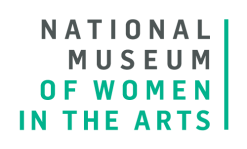 Wednesday, February 15, 2:30 p.m.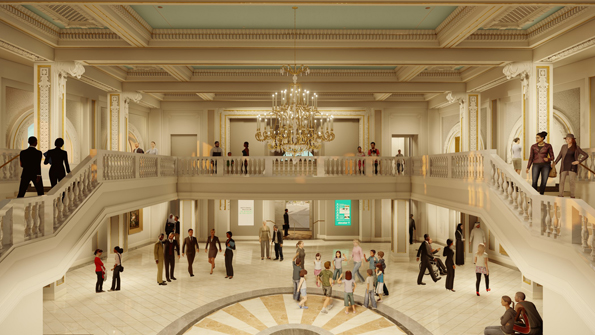 National Museum of Women in the Arts renovation project: Great Hall; Rendering by Sandra Vicchio & Associates, LLC, with Marshall Craft Associates, Inc.
Director Susan Fisher Sterling of the National Museum of Women in the Arts
invites you to a private HARD HAT PRESS TOUR of the museum's renovation,
ahead of fall 2023 reopening
Wednesday, February 15, 2:30 p.m.
National Museum of Women in the Arts
1250 New York Avenue, NW, Washington, DC 20005
Please RSVP by Friday, February 10: https://forms.gle/TEyQEeDrmssLLJgHA
Invitation is non-transferable. RSVP required.
Spaces are limited
Closed since August 2021, the National Museum of Women in the Arts (NMWA) is currently undergoing a top-to-bottom, $67.5 million major renovation. Join NMWA Director Susan Fisher Sterling, architect Sandra Vicchio and members of the NMWA building project team to experience the transformation underway at the museum, hear about exhibitions and artworks that will be on view and learn about the public grand opening in fall 2023. The grand reopening date will be announced at the tour.
About the Project
NMWA is located in a 1908 Classical Revival structure listed on the National Register of Historic Places. The historic building's first full renovation since NMWA opened in 1987, the project honors its legacy while improving its interior spaces, façade and infrastructure. Designed by Baltimore-based architectural firm Sandra Vicchio & Associates, updates include gallery spaces enlarged by more than 20% to showcase historic and contemporary artworks and installations; a new Learning Commons, featuring an Education and Public Programs Studio for hands-on workshops and improved research library; an updated, state-of-the-art Performance Hall; and more efficiently designed museum collections storage and conservation areas.
For further information on the renovation project, go to nmwa.org/renovation.
#nationamuseumofwomeninthearts#fineartmagazinee#fienaartfun