GRAHAM GILLMORE

Graham Gillmore, represented by Dorfman Projects, is a Canadian painter, born in 1963, best known for his vitriolic use of text as an art form within edgy and often provocative work.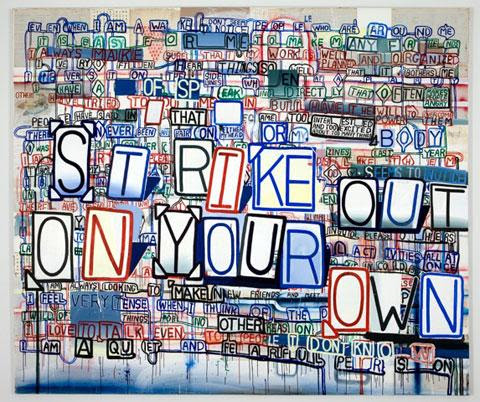 Strike Out On Your Own
SIEBREN VERSTEEG
The below works by Siebren Versteeg, represented by Dorfman Projects are digital and displayed on a computer moniter. They are designed to change automatically throughout the day. What you see below are two different days, dates and times, the image of the day's New York Times News Paper and a painting that morphs on the top of the newspaper throughout the day.
Goodtimes_1081_2003_05_09 Goodtimes_818_2006_05_12
MIA FEUER
Mia Feuer was born in Winnipeg, Canada in 1981 and received her MFA in sculpture from Virginia Commonwealth University.
Her sculptures and installations are inspired by divergent events such as actual political events occurring in the West Bank, an imagined traffic jam lining an evacuation route from Washington, D.C., and visions of a snow-covered iron truss bridge in Winnipeg, Canada. Mia Feuer is represented by Dorfman Projects.
Collapse