JULY 6–17
Yayoi Kusama, a retrospective exploring over six decades of work by the legendary artist, opens July 12. Encompassing an astonishing array of media, the exhibition includes the artist's signature patterns of dots and nets as well as many lesser-known works. Kusama's immersive installation, Fireflies on the Water, is also currently on view in the Museum's lobby gallery.
And don't miss Sharon Hayes: There's so much I want to say to you, which The New York Times called "entrancing and original." The exhibition explores the connections between love, politics, and history through found footage, video and audio recordings, and ephemera.
We hope to see you at the Whitney!
---
Exhibitions
Shop
Become a Member
---
Exhibitions
BACK TO TOP
Singular Visions
Through July 15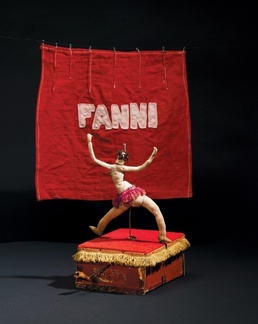 With our latest reinstallation of the permanent collection galleries, the Whitney invites visitors to slow down and experience art in a dramatic new way. Ten highlights from the collection, many of which have not been exhibited in years, are presented in their own rooms, creating spaces for intimate and powerful encounters with a single work of art. The variety of mediums and sizes from small to sprawling reveal how artists of the last five decades have stretched the boundaries of what an artwork can be. The latest rotation of works featured in Singular Visions includes Alexander Calder's Calder's Circus and Jasper Johns' Three Flags.
Sharon Hayes:
There's so much I want to say to you
Through September 9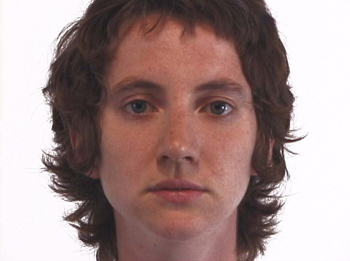 Sharon Hayes (b. 1970) is a New York–based artist who uses photography, film, video, sound, and performance to examine the nexus between politics, history, speech, and desire. This exhibition brings together existing pieces and newly commissioned works, all of which articulate forms of what Hayes calls "speech acts." The works are presented within an environment designed by Hayes for the Whitney's third floor galleries, in collaboration with artist Andrea Geyer.
Yayoi Kusama
July 12–September 30, 2012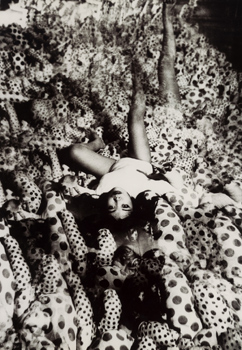 Well known for her use of dense patterns of polka dots and nets, as well as her intense, large-scale environments, Yayoi Kusama works in a variety of media, including painting, drawing, sculpture, film, performance, and immersive installation. Born in Japan in 1929, Kusama came to the United States in 1957 and quickly found herself at the epicenter of the New York avant-garde. After achieving fame through groundbreaking exhibitions and art "happenings," she returned to her native country in 1973 and is now one of Japan's most prominent contemporary artists. This retrospective features works spanning Kusama's career.
Kusama's Fireflies on the Water, a work in the Whitney's collection, is being shown in conjunction with Yayoi Kusama and is on view in the lobby gallery.
Signs & Symbols
Through October 28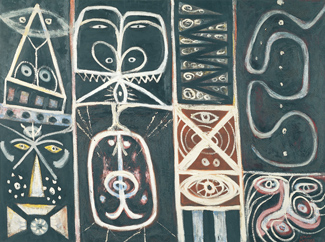 Drawn from the Whitney's collection, Signs & Symbols sheds new light on the developments of abstraction in American art during the 1940s and 1950s. Looking beyond Abstract Expressionism, toward the figurative and calligraphic "signs and symbols" present in much of the highly controlled work of this period, this exhibition features works by seminal artists including Mark Rothko, Jackson Pollock, and Adolph Gottlieb, among others.
Oskar Fischinger:
Space Light Art—A Film Environment
Through October 28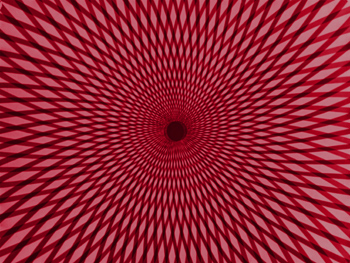 This exhibition presents one of the first multimedia projections ever made: Oskar Fischinger's Raumlichtkunst (Space Light Art), a re-creation of his multiple-screen film events, first shown in Germany in 1926, and recently restored by the Center for Visual Music in Los Angeles. Radical in format, its display of abstract shapes and colors produces, according to Fischinger, "an intoxication by light from a thousand sources."
. . . as apple pie
On continuous view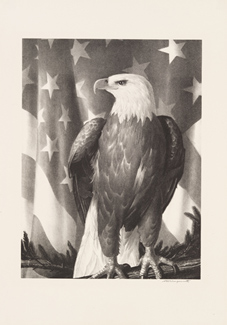 Images, like words, can trigger a cultural or emotional response to a shared national ethos. Artists have employed images—sometimes straightforwardly, often obliquely—in order to comment on a country, its people, its political or social goals, and its self-image. This exhibition explores this phenomenon through a rotating installation, drawn from the Whitney's collection, of works on paper by a diverse group of artists including William N. Copley, Edward Hopper, Jasper Johns, Elizabeth "Grandma" Layton, Willard Midgette, LeRoy Neiman, Joseph Pennell, Charles Ray, Jaune Quick-to-See Smith, and Stow Wengenroth.
Fireflies on the Water
On continuous view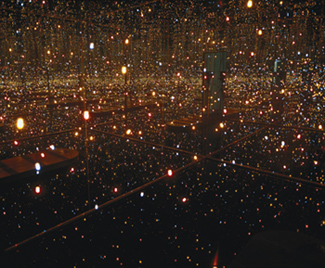 Yayoi Kusama's depictions of seemingly endless space have been a central focus of her artistic career. Kusama's Fireflies on the Water (2002)—with its carefully constructed environment of lights, mirrors, and water—is one of the outstanding examples of this kind of installation, which creates a space in which individual viewers are invited to transcend their sense of self.
Fireflies on the Water, a work from the Whitney's collection, is being shown in conjunction with Yayoi Kusama, which will be on view on the Museum's fourth floor July 12 through September 30.
---
Shop
BACK TO TOP
Sharon Hayes: There's so much I want to say to you
$24.95 / $19.96 for members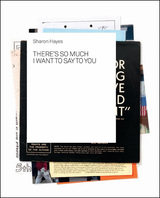 This book serves as a document of Sharon Hayes's thinking process and provides insight into the motivations and development of her projects. It features original contributions from Hayes and some two-dozen other writers, artists, and activists

.
Cory Arcangel Umbrella


$28 / $22.40 for members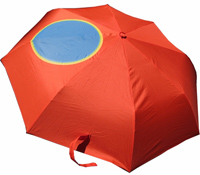 Is it a splash of rain or a solar eclipse? You decide. In either case, it will brighten up any rainy day. This brilliant design is based on a PhotoShop gradient Arcangel made for Showpaper.
---
Just for Members:
Member Saturday Night
Saturday, July 14
6:30–8:30 pm
The Whitney is open late just for members! Grab a drink at the cash bar, enjoy live music, and view the latest exhibitions without the daytime crowds.
Open to all members, plus one guest.
JOIN NOW
For further information, please email memberinfo@whitney.org or call (212) 570-3641. Thank you for supporting the Whitney!
BACK TO TOP
---
IMAGE CREDITS
Kusama in Phalli's Field, 1965 (detail). Photograph by Eikoh Hosoe. © Eikoh Hosoe. Collection Yayoi Kusama. Image courtesy Yayoi Kusama Studio Inc.; Ota Fine Arts, Tokyo; Victoria Miro Gallery, London
Alexander Calder (1898–1976), Fanni, the Belly Dancer, from Calder's Circus, 1926–31. Wire, cloth, rhinestones, paint, thread, wood, and paper, 11 1/2 × 6 × 10 1/2 in. (29.2 × 15.2 × 26.7 cm). Whitney Museum of American Art, New York; purchase with funds from a public fundraising campaign in May 1982. One half the funds were contributed by the Robert Wood Johnson Jr. Charitable Trust. Additional major donations were given by The Lauder Foundation, the Robert Lehman Foundation Inc., the Howard and Jean Lipman Foundation Inc., an anonymous donor, The T. M. Evans Foundation Inc., MacAndrews & Forbes Group Incorporated, the DeWitt Wallace Fund Inc., Martin and Agneta Gruss, Anne Phillips, Mr. and Mrs. Laurance S. Rockefeller, the Simon Foundation Inc., Marylou Whitney, Bankers Trust Company, Mr. and Mrs. Kenneth N. Dayton, Joel and Anne Ehrenkranz, Irvin and Kenneth Feld, Flora Whitney Miller. More than 500 individuals from 26 states and abroad also contributed to the campaign 83.36.24a-d © 2009 Calder Foundation, New York/Artists Rights Society (ARS), New York; photograph © Whitney Museum of American Art
Sharon Hayes (b. 1970), still from Symbionese Liberation Army (SLA) Screeds #13, 16, 20 & 29, 2003. Four screen video projection, color, sound. Courtesy the artist and Tanya Leighton Gallery
Kusama in Phalli's Field, 1965. Photograph by Eikoh Hosoe. © Eikoh Hosoe. Collection Yayoi Kusama. Image courtesy Yayoi Kusama Studio Inc.; Ota Fine Arts, Tokyo; Victoria Miro Gallery, London
Adolph Gottlieb (1903–1974), Vigil, 1948. Oil on canvas, 36 × 48 in. (91.4 × 121.9 cm). Whitney Museum of American Art, New York; purchase 49.2. Art © Adolph and Esther Gottlieb Foundation / Licensed by VAGA, New York, NY
Oskar Fischinger (1900–1967), still of Raumlichtkunst, 1926/2012. Three screen projection: three 35mm films transferred to high-definition video, black-and-white and color, sound; 10 minutes, looped. © Center for Visual Music
Stow Wengenroth (1907–1978), Bird of Freedom, 1942. Lithograph, 21 9/16 × 15 1/16 in. (54.8 × 38.3 cm). Whitney Museum of American Art, purchase 42.13. Digital image © Whitney Museum of American Art
Yayoi Kusama (b. 1929), Fireflies on the Water, 2002. Mirror, plexiglass, lights and water, 111 × 144 1/2 × 144 1/2 in. (281.9 × 367 × 367 cm) overall. Whitney Museum of American Art, New York; purchase, with funds from the Postwar Committee and the Contemporary Painting and Sculpture Committee and partial gift of Betsy Wittenborn Miller 2003.322. © Yayoi Kusama. Photograph courtesy Robert Miller Gallery, New York
---