Larsen Gallery Engages New Audiences at
Upcoming Fall Events
Networking Mixer, Preview Party & Polo Auction
Expose Young Professionals to the Art World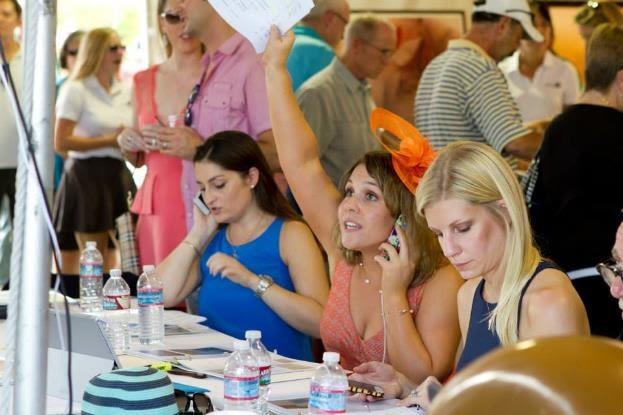 (
SCOTTSDALE) – Larsen Gallery, a national leader in the secondary art market for more than 20 years, is targeting new audiences this fall with several exciting events, including The Phoenix Symphony Young Professional Fall Membership Event and Larsen Auction Preview Party, leading up to their biggest event of the year: The Larsen Art Auction at The Bentley Scottsdale Polo Championships: Horses & Horsepower at WestWorld on

October 24

.
"We have some spectacular events this fall that will really connect us with a wider audience than most galleries are able to reach," said Scott Larsen, Owner of Larsen Gallery and Art Auction. "We aim to share our passion for the arts, and excited to do so with our involvement with the Phoenix Symphony and Bentley Scottsdale Polo Championships."
Larsen Gallery will host The Phoenix Symphony Young Professionals (PSYP) Fall Membership event on

Thursday, Sept. 24

from

6:00 – 8:00 p.m.

at its Downtown Town Scottsdale location. PSYP is a networking group that encourages social events tied to concerts throughout the year that cultivates younger audience members' interests. Guests will savor complimentary cocktails and appetizers, enjoy entertainment by The Phoenix Symphony, learn about the membership benefits as well as get a sneak peek at the Larsen Art Auction collection.
Then on

Wednesday, Oct. 21

from

6:00 – 8:00 p.m.

, Larsen Gallery will kick off the Bentley Scottsdale Polo Championships with their Auction Preview Party, also at the Gallery. In addition to being among the first to view the auction collection, guests at the Auction Preview Party will be treated to food and drinks, collector car displays
and the chance to mingle with professional polo players! All the excitement will be building up to…
The 2015 Larsen Art Auction inside The Picasso Pavilion VIP tent at theBentley Scottsdale Polo Championships: Horses & Horsepower on

Saturday, Oct. 24

at WestWorld. Returning for its second year, the 2015 Larsen Art Auction is expected to be the largest live art auction at a polo championship event. The collection includes several valuable Picasso works of art, as well as original paintings by LeRoy Neiman, Milton Avery and Maynard Dixon.
In addition to the live Larsen Art Auction and three championship polo matches, the Polo Party will feature a Fashion Show by Phoenix Fashion Week, Canine Couture Runway show, field-side ballroom dancing by Fred Astaire Dance Studios, a Phoenix Symphony quartet at preview of the 2016 Barrett-Jackson Collection Car Auction.
Larsen Gallery is located at 3705 N Bishop Lane in Scottsdale. To get more information, RSVP to the Preview Party or to register to bid for the 2015 Larsen Art Auction please visit the auction's website atlarsenartauction.com or contact the gallery at 480-941-0900.