THE ARMORY SHOW PRESENTS
ARMORY FOCUS: THE NORDIC COUNTRIES
Gallery, Artist and Performance Highlights
For the third edition of Armory Focus, The Armory Show has turned its attention to the dynamic arts community of the Nordic countries and will feature 19 of the most exciting galleries from Denmark, Norway, Sweden, Finland and Iceland. This invitation-only component of The Armory Show, Armory Focus: The Nordic Countries is curated by the esteemed Malmö Konsthall Director, Jacob Fabricius, who has carefully crafted Armory Focus to include works by leading artists, a stand-out schedule of performances, FREE STUFF and more.

The work being produced in the Nordic region today includes some of the most engaging and dynamic practices and projects in the contemporary art world – artists such as Olafur Eliasson, Ragnar Kjartansson, FOS, Karl Holmqvist and Goldin + Senneby, will be featured prominently in Armory Focus, taking place on Pier 94 in the Nordic Lounge.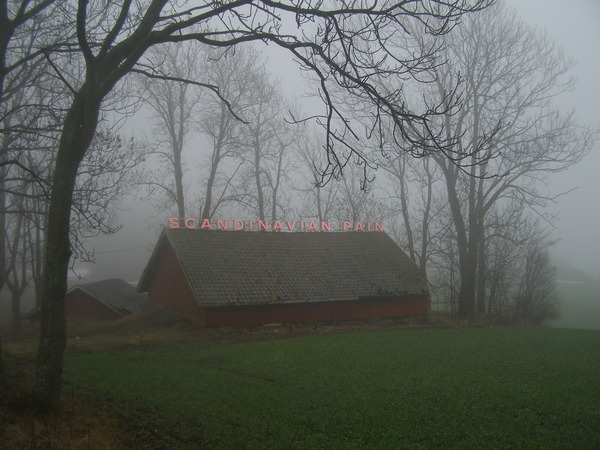 Image Credit:
Ragnar Kjartansson, Scandinavian Pain, 2006-2012, Neon sign installed in Moss, Norway 2006.
Courtesy of the artist, Luhring Augustine, New York and i8 Gallery, Reykjavik.
Participating exhibitors in The Armory Show: The Nordic Countries include:
Galerie Anhava (Helsinki)
Martin Asbæk Gallery (Copenhagen)
Beaver Projects (Copenhagen)
Gallery Niklas Belenius (Stockholm)
Galleri Bo Bjerggaard (Copenhagen)
Crystal (Stockholm)
D.O.R. (Oslo)
Dortmund Bodega (Oslo)
ELASTIC (Malmö)

Fruit & Flower Deli (Stockholm)
i8 (Reykjavik)
IMO (Copenhagen)
Galleri Magnus Karlsson (Stockholm)
Christian Larsen (Stockholm)
NOPlace (Oslo)
Galleri Susanne Ottesen (Copenhagen)
David Risley Gallery (Copenhagen)
Galleri Christian Torp (Oslo)
V1 Gallery (Copenhagen)
Featured highlights of Armory Focus: The Nordic Countries include:

Galerie Anhava will present three Nordic artists, Hreinn Fridfinnsson, Tommi Grönlund, Anna Tuori, under the concept of "Purity and Abundance" at booth 903; Martin Asbæk Gallery will present a two-artist exhibition at booth 911 including two Danish artists, Jesper Carlsen and Ebbe Stub Wittrup, whose polarized light Cube will be on display; Beaver Projects will feature gallery artists Anders Brinch, Christian Finne, Tanja K Jensen, Hartmut Stockter and Mette Vangsgaard at booth 916; Gallery Niklas Belenius' installation will include works by Leif Elggren and Miriam Bäckström at booth 910; Galleri Bo Bjerggaard will feature works by Bo Christian Larsson, Poul Gernes, Brigitte Waldach, Erik Steffensen and Tal R at booth 900; Crystal will feature a solo project by Goldin+Senneby, a performance titled "The Discreet Charm", at booth 902; D.O.R. will exhibit the LGB Group in booth 920; Dortmund Bodega will display works by Viktor Rosdahl, Arild Tveito, Leander Djønne at booth 913; ELASTIC will host artists Hedlund, Per Mårtensson, Catrin Andersson, Magnus Thierfelder, Anna Ling, and Runo Lagomarsino at booth 906; a three-man exhibition of Olafur Eliasson, Ragnar Kjartansson and Birgir Andresson will be on view at i8's booth 901; IMO will display Jan S. Hanse and Maiken Bent at booth 904; Karl Holmqvist will be a focus in the Fruit and Flower Deli's booth, 915; Jeff Olsson's Foam Party will be shown at Galleri Magnus Karlsson's booth 905; Christian Larsen will show work by Cooper & Gorfer in their booth 914; NoPlace will display Tommy Høvik, Jon Eirik Kopperud & Saman Kamyab, Cecilia Jimenez Ojeda, Aleksander Stav, Erik Tidemann, Henrik Plenge Jakobsen, Kjetil Berge, Ingri Haraldsen, in additon to hosting The Orchard Ballads performance at booth 907; Gallery Susanne Ottesen will present an exciting group of younger Danish artists at booth 912 including Martin Erik Andersen, Emil Westman Hertz, Pernille With Madsen & Jasper Sebastian Stürup; Anna Bjerger's oil on aluminum Spill will be presented by David Risley Gallery at booth 908; Galleri Christian Torp will display Thora Dolven Balke, Ole Martin Lund Bø, Marianne Hurum, among others, at booth 909; and V1 Gallery will display a curated booth titled BROKEN LANGUAGE which will feature works by Søren Behncke and Peter Funch.

A number of exhibitors on the main floor of Pier 94, The Armory Show-Contemporary, and on Pier 92, The Armory Show-Modern, will also be presenting works from the Nordic region. Peter Blum Gallery (New York, Pier 94, Booth 806) will highlight the work of Danish collective, SUPERFLEX; Greene Naftali (New York), Galerie Krinzinger (Vienna) and Galerie Guido W. Baudach (Berlin) are collaborating to present a solo show by lauded Norwegian painter Bjarne Melgaard at Booth 801 on Pier 94; prompted by the Nordic Focus, Andréhn-Schiptjenko (Stockholm, Pier 94, Booth 602) will focus their booth on the gallery's Swedish artists including Martin Jacobson, Lena Johansson, Matts Leiderstam and Julie Roberts; Max Wigram Gallery (London, Pier 94, Booth 603) will exhibit works by Danish artist FOS; Bryce Wolkowitz Gallery (New York, Pier 94, Booth 613) is dedicating his booth to an exhibition of Helsinki School photography; Galerie Anne de Villepoix (Paris, Pier 94, Booth 610) will feature work by Norwegian painter Håvard Homstvedt; Galerie Forsblom (Helsinki, Pier 94, Booth 508) will offer a vibrant look at the Finnish art scene presenting several Finnish artists at the fair including HC Berg, Veikko Hirvimäki, Kaarina Kaikkonen, Ola Kolehmainen, Jarmo Mäkilä, Leena Nio, Jussi Niva, Tommi Toija and Marianna Uutinen; Oslo
based artist, Charlie Roberts, will be on view at Richard Heller Gallery (Santa Monica, Pier 94, Booth 835); Wetterling (Stockholm, Pier 92, Booth 420) will present a mix of American and European works; Bruce Silverstein Gallery (New York, Pier 94, Booth 845) is highlighting photography by Trine Søndergaard of Denmark; and DIE GALERIE (Frankfurt , Pier 92, Booth 102) will present Danish painter Carl-Henning of the historic CoBrA group.

In the Not for Profit section of the fair, Copenhagen's Overgaden. and Reykjavik's Living Art Museum will be joint producing a booth where, instead of exhibiting works, they will host a daily program of talks and performances. Icelandic artist Hrafnhildur Arnardottir a.k.a. Shoplifter will perform every afternoon during the fair, while the rest of the program will include Danish and New York-based artists such as Jakob Boeskov & Lili Schulder, Yvette Brackman & Martha Rosler, Nanna Debois Buhl & Liz Linden, Rose Eken & Nikolaj Hess, Jesper Just & Petri Sirvio, Eske Kath & Eric Starosielski, Kasper Sonne & Mamiko Otsubo, Jasper Sebastian Stürup & Ana Cardoso, Jesper Aabille & Douglas Paulson, Joachim Koester & Shirin Shabahi, Ann Lislegaard and Lilibeth Cuenca Rasmussen & Pete Drungle.
For 2012, The Armory Show will present the inaugural edition of Armory Performance featuring a number of artists active in the Nordic Region that will highlight the broad range of artistic practices and projects being produced in the region today. Armory Performance is curated by Jacob Fabricius. Performances will take place in The Wall Street Journal Media Lounge on Pier 94 and on the Fair floor. Highlights include:

Wednesday, March 7, 2:00-2:30PM, 3:30-4:00PM
Kreppa: A Symphonic Poem about the Financial Situation in Iceland
By: Örn Alexander Ámundason, Performed by Metropolis Ensemble, Andrew Cyr, Artistic Director/Conductor
The Wall Street Journal Media Lounge
What does a financial collapse sound like? This is a question posed by the Icelandic artist Örn Alexander Ámundason in the 14-minute concert Kreppa. Ámundason, who has explored what happens when politics are transformed into music, has identified thirteen main protagonists, given each of them an instrument and transformed their voices into a music score. The resulting work is performed on Opening Day of The Armory Show in collaboration with Metropolis Ensemble. Kreppa is generously sponsored by Stund styrktarsjóður and the Icelandic Art Center. Metropolis Ensemble's performance is generously sponsored by Robert Bielecki and Fast Orbit.

Wednesday, March 7, 5:30-6:30PM
Saturday, March 10, 10:00-11:00AM, 12:00-1:00PM
Amorphous Assemblage
Concept by Lilibeth Cuenca Rasmussen
White cocoons will be scattered throughout The Armory Show where living sculptures will emerge through a continuous transformation into various geometrical and amorphous shapes; the dancers within display the body as organic architecture. Participating dancers include: Amy Mauvan, Emily Keller, Emily Wong, Eunmi Yeo, Helen Louise Penn, Ida Nash, Liana Ruiz, Rie Komine and Shipra Saraogi. (Represented by Christian Larsen Gallery, Booth 914, Pier 94)

Wednesday, March 7, 6:00-8:00PM
OSLOO—A COLLECTION OF CENTERS—In New York
By: FOS
The Wall Street Journal Media Lounge
Osloo is a floating pavilion that has taken place on several occasions, latest as part of the Danish Pavilion during the 2011 Venice Biennale. The platform hosted a range of programmed public events that all addressed the idea of public space under the theme "public spiritualism". Osloo is a major manifestation of FOS' practice that extends from large-scale installations and sculptures to music, performance and design, all brought together under the term "social design". For the two-hour event at The Armory Show, FOS will recreate the model of the events at OSLOO in Venice under the title: A Collection of Centers. The program will include: The Neo-Relational Performance by D.O.R (NO/BE); in-between protagonist performance by Rastafarian H.C. Andersen; a small introduction to swarm intelligence; a lecture on patterns in music; "Small White Man" a music conduction. Musicians will include Michael Hanf, vibraphone; Rasmus Bille Bahncke, SH101; Pavel Kogan, guitar; David Mason, electric drums; Matt Parker, saxophone; Mikkel Hess, drums; Special appearance by Tiffany Roth (Midnight Magic) and Findlay Brown, musician. Production coordinator is Maibritt Borgen.
OPEN FORUM, The Armory Show's lively talk series, curated by Amanda Parmer of the Whitney Independent Study Program, will present discussions between New York and Nordic based artists, art historians, curators, critics, directors and dealers in honor of The Armory Show's focus section. OPEN FORUM will draw on the distinctions and affinities between the socially engaged artistic, curatorial, writing and administrative practices of the two geographic regions. Speakers active in the Nordic region will include: artist Ragnar Kjartansson, representative of Iceland in the 53rd Venice Biennale in 2009 and recipient of the prestigious Malcom Award at Performa 11 last November; Icelandic singer-songwriter, Bjork; Gunnar Kvaran, Director of the Astrup Fearnley Museum in Oslo and Curator of the 2013 Lyon Biennale; Dorothée Kirch, Director of the Icelandic Art Center; Anette Østerby, Director of the Danish Arts Council; Lisa Rosendahl, Director of Iaspis, Stockholm; Danish art historian Niels Henriksen; Finnish curator Taru Eflving; Danish artists Marie Kølbæk Iversen and Lilibeth Cuenca Rasmussen;
Kati Kivinen
, Chief Curator of the Museum of Contemporary Art Kiasma in Helsinki;
and
Sanne Kofod Olsen
, Director of the Museum of Contemporary Art, Roskilde.

Posters, Souvenirs and Other Stuff is a humorous artistic take on the notion of the tourist souvenir, curated by Jacob Fabricius and featuring an array of pens, buttons, pencils, stickers and more. FREE STUFF will be available to Armory Visitors in the Armory Focus: The Nordic Countries Lounge on Pier 94. Participating artists include:


Örn Alexander Ámundason
folders, performance
Nina Canell
rulers
Marte Eknæs
posters
Jonatan Habib Engqvist
(I)ndependant People
Matias Faldbakken
Posters
FOS
lamps, performance
Goldin+Senneby
posters
Goodiepal/EVOL
posters, sound
Lina Viste Grønlis
posters
Karl Holmqvist
posters, buttons, pens, pencils
Laura Horelli
posters
INSTITUTT FOR DEGENERERT ZUNST
Old News newspaper
Henrik Plenge Jakobsen
cake, lollipops, stickers, toilet paper
Gunilla Klingberg
posters
Jakob Kolding
posters
Joachim Koester
t-shirts
Runo Lagomarsino
napkins
Matts Leiderstam
Posters
MoonSpoon
Everything
Pind
cards
Lea Porsager
posters, needles, postcards
Danh Vo
posters
Pernille Kapper Williams
posters
. . . and more.
Armory Focus: The Nordic Countries is sponsored by the ACE HOTEL NEW YORK
Dates
Wednesday, March 7 for invited guests
Thursday, March 8 - Saturday, March 10 Noon to 8 pm
Sunday, March 11 Noon to 7 pm
Visitors with a VIP pass will also be able to access the fair from Thursday to Sunday from 11 am to Noon.
Tickets
Click here
to purchase tickets and to reserve your Armory Show tour presented by Erbe Arts Projects. Admission tickets are also available at the Box Office during show hours. Please visit www.thearmoryshow.com for more information.
Ticket Prices
General Admission US $30
Students/Seniors US $15
Groups (10+) US $15
Run of Show Pass (4 day) US $60
The Armory Show / Volta NY Pass US $40
Location
Piers 92 & 94
Twelfth Avenue at 55th Street
New York City
The Armory Show is located on Piers 92 and 94 on the Hudson River, Twelfth Avenue at West 55th Street in the Passenger Ship Terminal complex, conveniently located 20 blocks north of the Chelsea Gallery district and just west of Columbus Circle.

The piers are easily accessible by public transportation, taxi, and private vehicle. The nearest subway stop is four cross-town blocks east at West 50th Street and Eighth Avenue. Shuttles services are available between The Armory Show on Piers 92 & 94 and VOLTA NY on 34th Street near Fifth Avenue; the Chelsea gallery district at 27th and 11th Avenue; and the Whitney Museum of American Art at Madison Avenue and 75th Street. Please see shuttle schedule outside the fair for departure and arrival times and locations.
ART TOURS
The Armory Show 2012 and VOLTA NY present ART TOURS, organized by Erbe Art Projects. Our annual ART TOURS program features a team of qualified art professionals who are able to guide your group through The Armory Show and VOLTA NY. For more information, please visit thearmoryshow.com.
Editor's Note: Please register in advance for press accreditation to The Armory Show by clicking here.
Press Contacts
Lauren Pearson, The Armory Show / 646.616.7433 / l.pearson@thearmoryshow.com
Dana Larson, Ruder Finn Arts & Communications Counselors / 917.345.9841 /
larsond@ruderfinn.com
Lillian Goldenthal, Ruder Finn Arts & Communications Counselors / 212.593.6355 /
goldenthall@ruderfinn.com