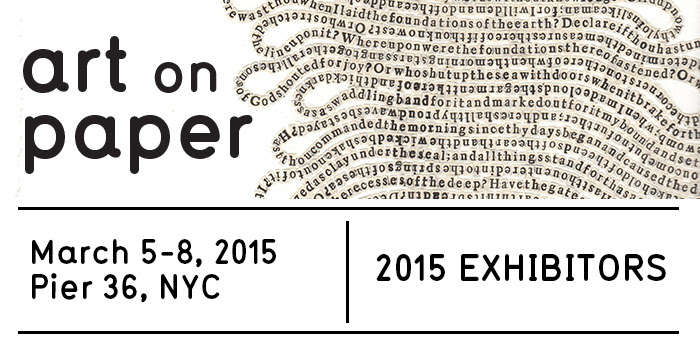 Your Complimentary Fair Pass for Art on Paper
art on paper is thrilled to announce our 2015 exhibitor list. With 55 galleries from around the world bringing the best in paper-based art to New York City's Pier 36, this year's art on paper is guaranteed to be March's top destination for collecting, learning, looking, and celebrating.
Pier 36 will be a dynamic hub of creativity with innovative presentations of paper-based art enhanced by museum-quality installations, exciting lectures and demonstrations, andexclusive access to favorite local restaurants, music, and cocktail programs. We are honored to have such incredible artists as Michael Scoggins, Wayne White, Dave Eggers, Mia Pearlman, and William Beckman activating art on paper's public spaces with their ground-breaking installations that will, in the words of The Art Newspaper, challenge the notion of "what a work on paper can be."

art on paper will launch

Thursday, March 5

with an opening night celebration supporting Beneficiary Parter Brooklyn Museum and its school programs. Morris Sandwich Shopwill feature their famously decadent, local & seasonal grilled cheeses and house-made cocktails throughout the evening. The beloved food truck's brick and mortar spot may be new to the scene, but it's already an institution, hitting Eater's Brooklyn Heatmap just last week. Brooklyn-based Live Footage, the two part jazz + classical = electronic band, will set the scene with their cinematic hip hop performance. Opening night guests, including top collectors, curators, museum directors, and artists, will have the first look atart on paper and the chance to support one of the city's most important institutions.
Programming will continue throughout the weekend with a live demonstration of metalpoint by artist Susan Schwalb. The National Gallery of Art and the British Museum are currently featuring Schwalb's work alongside drawings by Leonardo da Vinci, Raphael, Rembrandt van Rijn, and Jasper Johns in a comprehensive examination of the history of metalpoint, so this is an opportunity that shouldn't be missed. Presenting Partner The Wall Street Journal will offer exclusive tours, receptions and complimentary passes for WSJ+ members, as well as free daily copies of the paper and WSJ. magazine to everyone at the fair. art on paper's Creative Director Sasha Wolfhas assembled a collection of limited edition artist books from around the country that will be available to the public at her beautifully curated art on paper bookstore in the upstairs lounge.



We look forward to welcoming the public to what Artnet has dubbed "a new kind of art fair" on Pier 36 in a few short weeks.
#fineartmagazine